District 129 covers Plymouth, Roborough, Tavistock all of Cornwall and the Isles of Scilly
I.W. Club of Bude
President Christina Woodroffe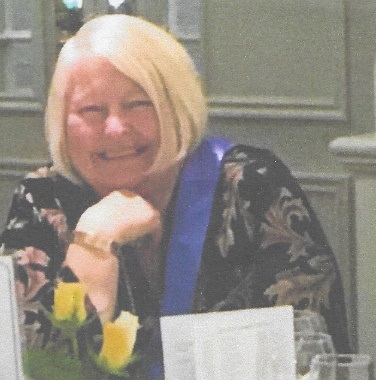 My late husband was an active Rotarian for over 40 years but I was a latecomer to the Inner Wheel party. I started about 17 years ago through accompanying a friend to a Bude IW meeting - everyone was so friendly and welcoming. The members' enthusiasm and commitment to supporting both local and much wider communities was palpable. I was keen to join, the club accepted me, and the friendships that I have made through this are very precious. Amazingly I am about to be President for the second time! I am retired after a long career in education, in which I retain a passionate interest. I am fortunate to live in a wonderful and remote community just over the border in Devon where I love to fill the house with family and friends. I am a doting grandmother and slave (owner?) to a mini dachshund
As with all organisations both in Cornwall,Devon and the wider community we are all still finding it difficult to come to terms with the continuing conditions brought about by COVID 19.
We are all sorry that we cannot meet together for our usual discussions and activities, however some of us do keep in touch via telephone and email and before this latest " lockdown" some were able to meet up in permitted numbers for a coffee or tea and a chat.
Earlier this month we were able to collect our Christmas time gifts for a Women's Refuge in Cornwall , this is something that we do every year and as usual the generosity of our members was greatly appreciated.
Members of the committee gave their time to collect,collate and deliver to a representative for this valuable service.
On Remembrance Sunday President Hilary Rainsley attended the gathering at the War Memorial on Shalder Hill in Bude ,to lay a wreath on behalf of the Inner Wheel Club of Bude. Hilary said it was a very carefully arranged and moving occasion, she was especially pleased to be able to be there for the 2 Minute Silence at 11 am as some organisations chose to lay their tributes at other times during the day.
After a recent Committee meeting held over Zoom arrangements have been made for us to make contributions to the local Food Bank and it is also hoped that we will be able to support several local charities again this year. This is something that we normally do at Christmas time.
We continue to talk to each other and hope that we can make some arrangements to associate over the holiday period probably once again through the Zoom system.
Meanwhile we hope that everyone will stay safe and we wish everyone a Happy and peaceful Christmas with as many family as is possible under whatever restrictions are in place.

Site designed by w.wallis