District 129 covers Plymouth, Roborough, Tavistock all of Cornwall and the Isles of Scilly
N O T I C E ...B O A R D





Saturday 21st March at 7pm
CANCELLED DUE TO THE CORONAVIRUS
Tavistock Inner Wheel invites Inner Wheel members
and guests to join them for a Ceilidh at
Tavistock Sir Francis Drake Bowling Club, PL19 8BS,
caller Mr George Mudge
Proceeds to 'Pete's Dragons'
£10 to include a pasty supper, Bar available

Please contact Sue Lake on 01822 612571 for tickets
---------------------------------------------------------------------

Tuesday 31st March 2020
CANCELLED DUE TO THE CORONAVIRUS
The International Rally will be held on
at Lanivet Parish Community Centre.
Our speaker will be Anna Gurung from 'Bring back the smile to Nepal'.
www.bringbackthesmiletonepal.org
Letters to clubs will be put in club folders at the District meeting in December,
and requests for assistance with refreshments and stalls on the day, will be sent in due course.

--------------------------------------------------------------------------------

Friday & Saturday 1 & 2 MAY 2020
CANCELLED DUE TO THE CORONAVIRUS
Helston/Lizard invite you to join them for a GIN FESTIVAL
Helston Guildhall - more details to follow
full details of on Club page of both events

------------------------------------------------------------

If you have a Coffee morning or walks and you would like to invite other members
Please send details to the email webmaster@innerwheelsw.org
..
A video on BF Adventure, Penryn acknowledging the Work of Inner Wheel
We welcome new members from the area who are interested
in joining a group of Ladies who have an interest in the ideals of Inner Wheel.
Inner Wheel is one of the largest voluntary women's service organisations in the World.
We work together giving humanitarian aid nationally and internationally.
Inner Wheel Clubs meet usually every month.
The objects of this service organisation are:-
To promote true friendship
Encourage the ideals of personal service
To foster international understanding
Who can join Inner Wheel?
Women with a connection to Inner Wheel Members / former Inner Wheel members
Women with a connection to Rotarians / former Rotarians
Women with similar ideals with the club's consent.
If you are interested in joining a Club near you -
click on "Clubs" and find your nearest Club
and arrange to go along to a meeting
.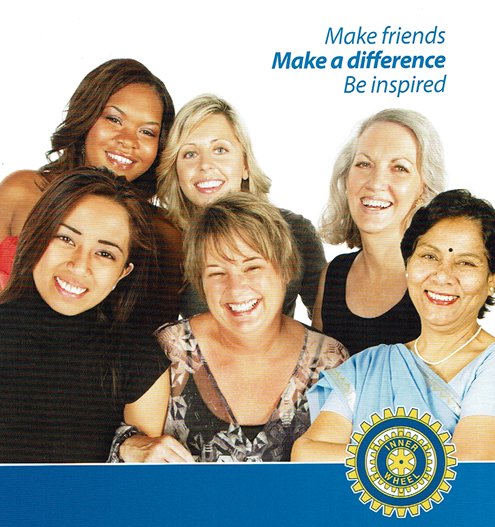 Site designed by w.wallis