LETTER FROM DISTRICT CHAIRMAN HILARY GENES APRIL 2021
Dear Ladies

Hope you have been enjoying the beautiful sunshine. and are all keeping well and have been able to meet your friends and family in groups of 6 in gardens in the fresh air.

Hope you that some of you who registered have been able to enjoy the Virtual IIW Convention coverage last weekend.
I don't know what you think, for those who watched it, but I thought that it was fantastic.

It must have taken a lot of organisation to produce such a wonderful Virtual experience in just two months.
Over 4000 people from all over the world have been honoured to have watched the entire IIW Convention in Two days from the comfort of our homes. There was so much to see and the staff were very helpful. There were many exciting experiences eg Bollywood Dance classes, Indian cooking classes , Yoga, the choice of 14 International dancers , Bazaars, with shops where one could visit and purchase items with a discount, Virtual Tours of Delhi, Accra and Jaipur.
The discussions on the Proposals from Key-note Speakers was certainly very interesting, including the very poignant and convincing Debates and Rights of Replies.

We look forward to hosting the IIWCentennial Convention in Manchester in 2024, to countries from all over the World.
IIW President Bina did an excellent presentation of the entire Convention and the Business sessions.
It was a good speech by Ebe Martines, our new IIW Vice President from Italy.
We will have a lot of good objectives to look forward to in the future.

We have certainly had good Leadership from Dr Bina's motto for her year "Lead The Change" and will make the next year a lead into more changes to make a better place for women and the elderly and for all the Districts and clubs in GB&I and our International Inner Wheel friends all over the World.

Thank you all for joining in the IIW Convention and for all those who registered. You will still be able to access the archives in a few days.

Please read the email dated April 21 st, that District Treasurer, Vanessa Hughes has sent clubs stating then, that the archives would be available in a day or two and how to access the Convention.

It was an experience that we may never experience again.
Thank you for your hard work and support.
Love
Hilaryx

DISTRICT MEETING 11 MARCH 2021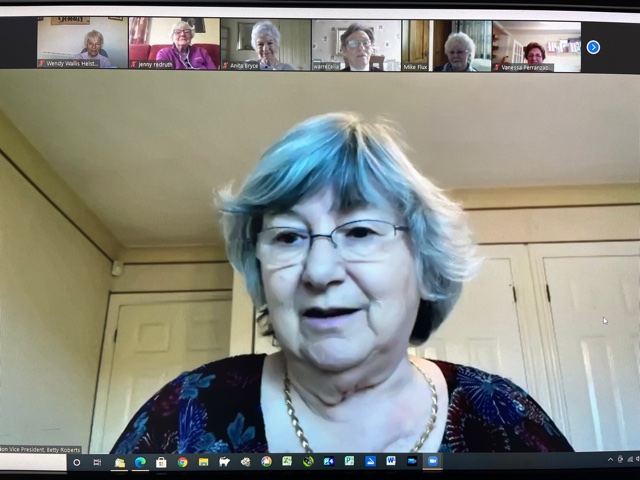 On Thursday 11 March District 129 held a District Meeting via Zoom and the speaker was Betty Roberts, the Vice Chairman of Association.

Hilary Genes welcomed members to the meeting from all over District 129 including the Isles of Scilly.

Betty Roberts talked about her time in Inner Wheel and how she was looking forward to becoming President next year and hopefully would get to meet many more Members in Inner Wheel. However, this pandemic has made us realize our organization must modernize and move foward into the Twenty first Century. The purpose of IWheel is that members can meet on line and this will run in parrallel with Inner Wheel.
"Steps for Strokes" - Betty Roberts would like to raise money for "Stroke Association". Her idea is for all members to walk from John O'Groats to Lands End. To achieve this, if each member of each clubs walks 2.5 miles and raises a little money Betty would be very grateful. Both her parents had a stroke and her mother lived in Bodmin so Cornwall is very close to her heart.
---
Letter from Ditrict 129 Chairman Hilary Genes
To Presidents and those who are not yet handed over,
Dear Ladies,
Happy New Year to you all.
What a lovely morning to welcome a Year of NEW beginnings and hopes for a better and happier year.
Hope you have had a good Christmas, despite last minutes changes.
Thank you for all your lovely Christmas cards and wishes.
My suggestion to mark Inner Wheel Day is to have a "MAKE A PHONE CALL DAY."
I would like you to ask members to make a phone call on Inner Wheel Day to someone who is lonely but Not an Inner Wheel member, on 10th January to mark Inner Wheel day, as part of what Inner Wheel day does.
Just think, if every one of you, made a call that would make 400 calls, that would have made someone happy.
Thank you for your coperation.

I would also like to know, whether you would like us to have a Zoom District meeting in June and invite some of your members.
Please let Vanessa know how many members you would like to invite, and who they are so a link can be sent to them as well.
Thank you ladies.
Enjoy the sunshine.
Have a wonderful day.
Look forward to hearing from you.
Hilary Genes
District Chairman
D129

District Clubs have been supporting "Victims of the Earthquake in Croatia" Appeal. Link to Newsletter


DISTRICT ZOOM MEETING 9 December 2020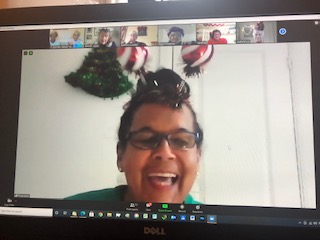 A District Meeting with a difference !

The Committee of District 129 put together two videos - Christmas Themed - with Committee members super-imposed. Special thanks must go to Vanessa for organizing this and to the Committee who put so much work into providing the entertainment.

The Chairman welcomed Members and said how Covid has made a lot of challenges for Inner Wheel members to get to grips with technology and Zoom. Over 50 Inner Wheel members logged onto the District Zoom Meeting. Hilary looks forward to getting back to District Meetings in the near future.

The District Editor asked members to look out for the "Feel Good Magazine" which will be on the internet and website shortly. Please keep logging onto the website for updates.
The next District meeting will be on Zoom in March and details will be sent out to Members near the time.