District Meetings for 2023 - 2024 click here
District Meeting Lanhydrock 15 June 2023

Coffee was served in the bar at this beautiful location of Lanhydrock Hotel and Golf Club which gave ladies time to relax and meet other members from Clubs in District 129.

The incoming President, Beatrice Dyer would like to change the format slightly and have meeting on different days of the week so our next meeting is Tuesday 26 September Lanivet Hall, Wednesday 29 November Lanhydrock, Friday 8 March 2024 Trethorne luncheon. Thursday 20 June 2024 Lanivet Cream Tea. Full details to follow in due course.

Unfortunately there are more Clubs closing in the District at the end of this month and Beatrice has urged members to come along and join the DEC and take up office.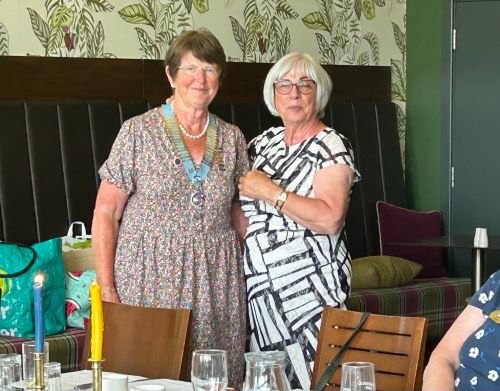 The Incoming President is Beatrice Dyer seen above being given the "Chain of office" by out going Joint President Fran Tregaskes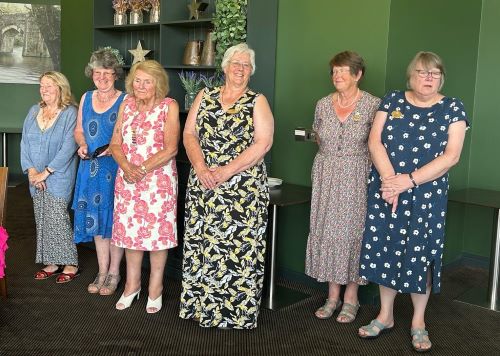 Officers for the coming year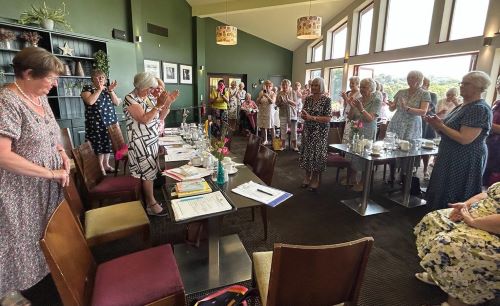 Ladies welcoming Beatrice as District Chairman
Diary Dates for 2023 - 2024
District Spring 2023 Newsletter
WEDNESDAY 23 MARCH 2023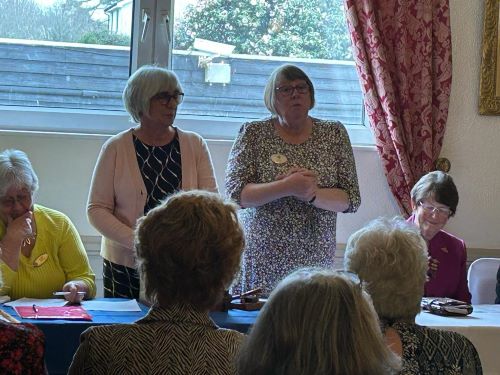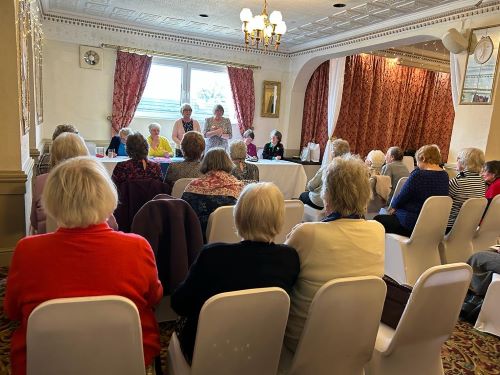 Members were greeted by Perranzabuloe Club at the Penventon Hotel, and had a delicious luncheon followed by a meeting.


WEDNESDAY 10 NOVEMBER 2022 - District 129 Rally at Lanhydrock Hotel

All members were warmly welcomed on arrival by the ladies of Truro IW who were our hosts for the day. Tea, coffee and homemade biscuits were in plentiful supply and there was plenty of friendly catching up in the reception area. The staff were very helpful when it came to setting up the 'photography corner' and also took a photo for their Facebook page, all publicity warmly welcomed!!

Beatrice Dyer excelled in her role as MC, and after Vanessa Hughes led us in the Inner Wheel prayer and the Grace we all settled down to a delicious lunch which everyone enjoyed.

Joint DC and Member of Council Fran raised our first loyal toast to The King, followed by Marjorie gathering up some of the members of the waiting staff to receive a vote of thanks.

After a 15 minute break for tea, coffee and comfort breaks Joint DC Val gave the official welcome to association President Karen Davies who then introduced herself to us.

Karen told us to be proud of and actively promote Inner Wheel, we have been the world's best kept secret long enough. We must adapt to the world we find ourselves in while maintaining the important links to our past. Every member is important and Service, along with Friendship, is the essence of Inner Wheel.

Karen explained that her late husband worked for the Wales Air Ambulance, which is why the Air Ambulances are her chosen charity, we are very welcome to support our own organisations in Devon & Cornwall but if we also wanted to sponsor her in her plant to dance for 2 hours every day of her Presidency she would be delighted.

Karen is determined that the Blackpool conference will go ahead, registration is open now and also to register an interest in the Convention in Manchester in 2024.

Karen finished by telling us how the tradition of presenting a red rose for friendship started with a Danish club in the 1960s and presented our 2 District Chairmen Fran and Val with a rose each.

Fran gave the vote of thanks, and Karen was presented with a Cornwall Air Ambulance bag of treats from Devon and Cornwall.
The meeting closed in the usual solemn manor that we have come to expect from Val with a rendition of a poem about middle aged ladies!!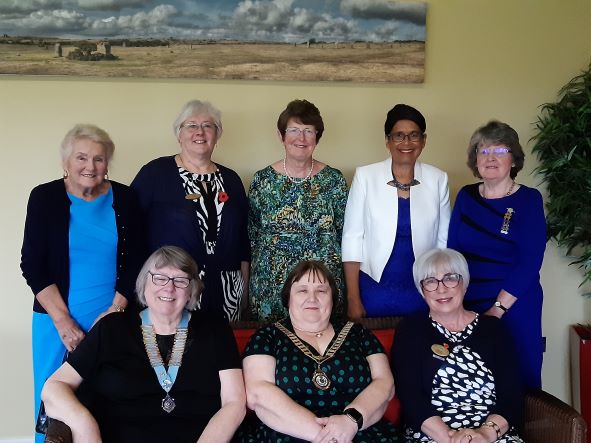 Karen with District Executive Committee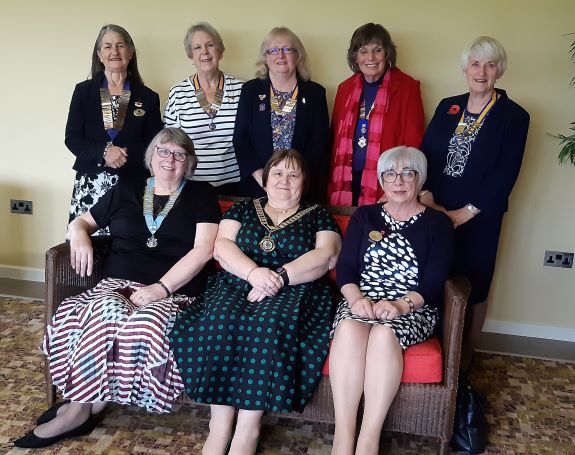 Karen with Club Presidents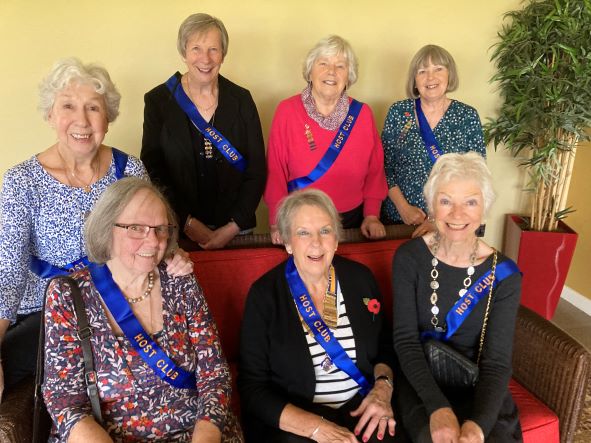 Ladies of the Host club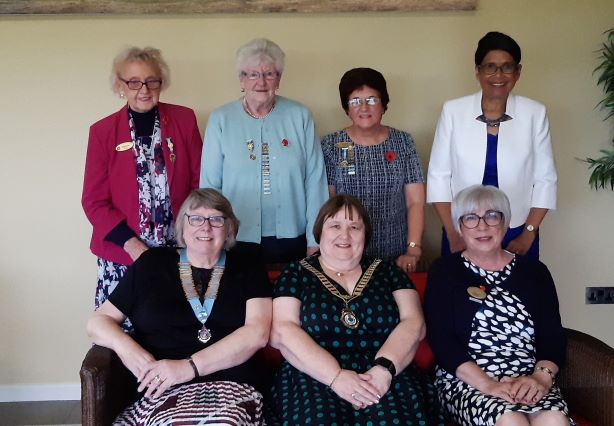 Karen with Past District Chairman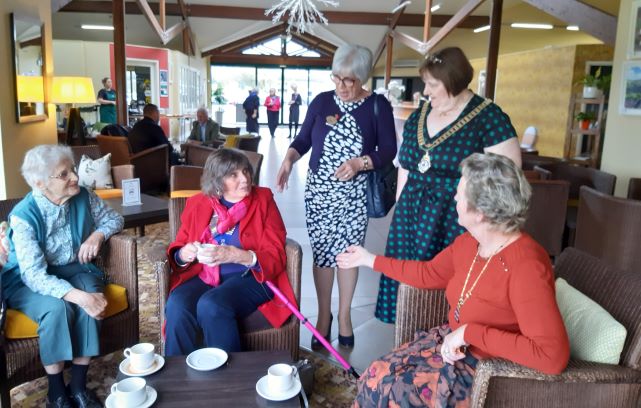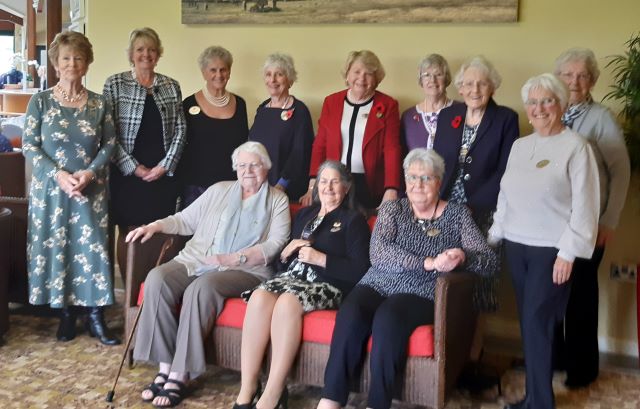 Roborough Ladies
THURSDAY 22 SEPTEMBER 2022 - TRETHORNE, LAUNCESTON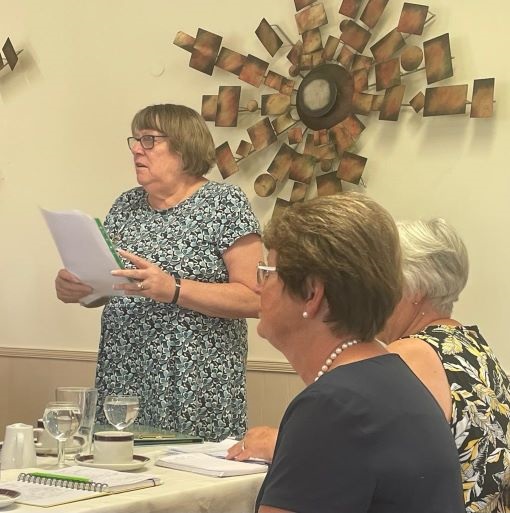 Val Pascoe with Vice Chairman Beatrice Dyer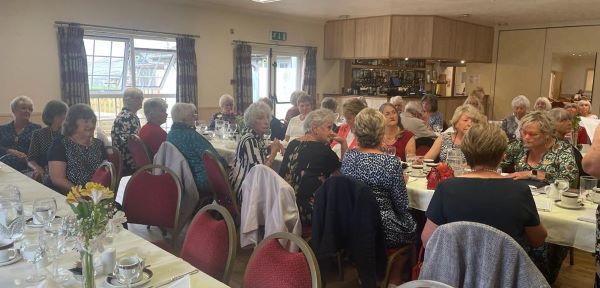 Members enjoyed a wonderful luncheon provided by Trethorne Leisure Park and discussed the arrangements for travelling to the Annual conference at Blackpool and Centenary Celebrations in 2024
ANNUAL GENERAL MEETING - NEWQUAY JUNE 2022
After 2 wonderful years as D129 chairman Hilary receives her PDC badge from MoC Fran and joins her girls at our AGM in Newquay 16 June 2022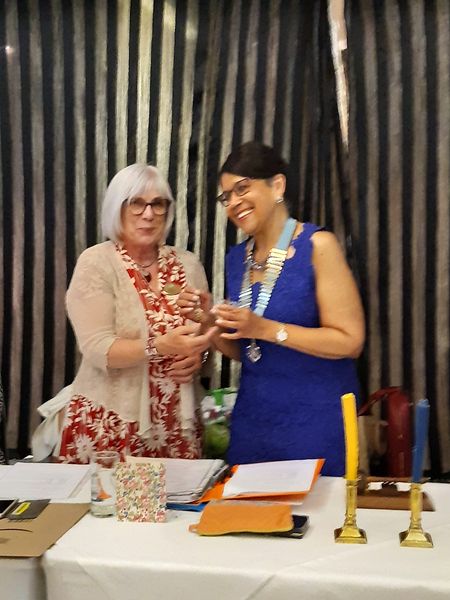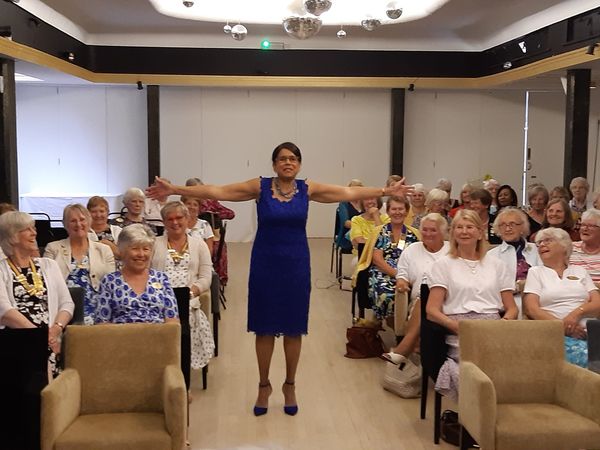 Dear Inner Wheel Members
It was a fantastic day, full of fun, love,laughter and Happiness.
All my friends on the DEC really added to my last day as District Chairman of District 129.
The club members contributed to the atmosphere of the day and my sadness to leave disappeared because I thought that with all the dark times that we had been through during the Covid Pandemic, It was a celebration of being together and realisation that we will always be the best District ever as 'Together we could.'
I was happy to learn that Beatrice Dyer of the Truro club had confirmed that she would be the Vice District Chairman of the for this year and the District Chairman for next year.

She was also awarded the Queen's Jubilee award for her service to the Royal Cornwall Hospital League of Friends. She is among 450 people in the Country and five people in the County of Cornwall. We all congratulated her for her fantastic achievement.

Christine Rogers also came forward and agreed to share the post of Treasurer with MOC Fran Tregaskes and Val Pascoe. We have a new District Membership Officer, Bridgette North from the Liskeard and Looe club
.
We say goodbye to our dear Vanessa Hughes,District Treasurer, my Conference Buddy, after 14 years of being on the DEC and wish her the best for the future but she will still be hosting our Zoom meetings in the future.
I thank all of my friends on the DEC, Fran,Liz, Val for all their support, Love and Friendship and especially our District Secretary, Angie Tamblyn who steered the ship regardless of what happened and was there in my moments of despair.
All the best for the future.

Most of all I sincerely thank each and everyone in the Clubs of District 129 who have worked very hard for Inner Wheel and who kept their members happy and surviving with lots of Love and Friendship and keeping our District alive.

It is their Love that has kept me going!
In Love and Friendship
Hilary Genes

Now Inner WheelWheel Past District
Chairman
District Meeting at Penventon Hotel 17 March 2022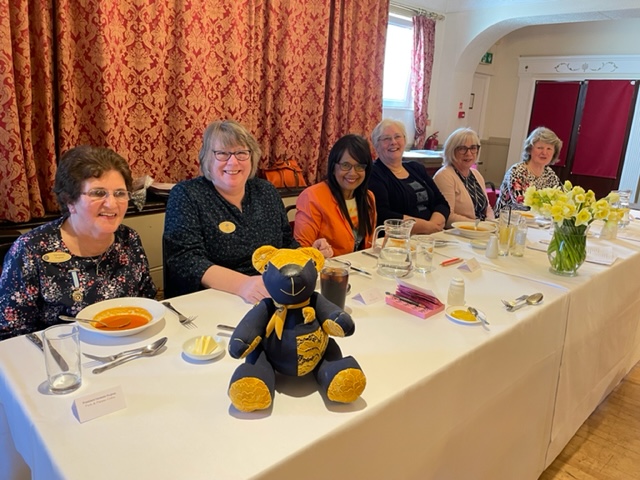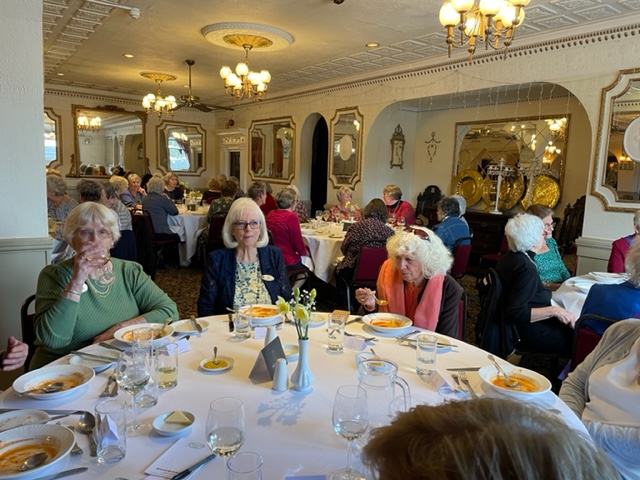 Christmas Luncheon, Carlyon Bay Hotel - 8 December 2021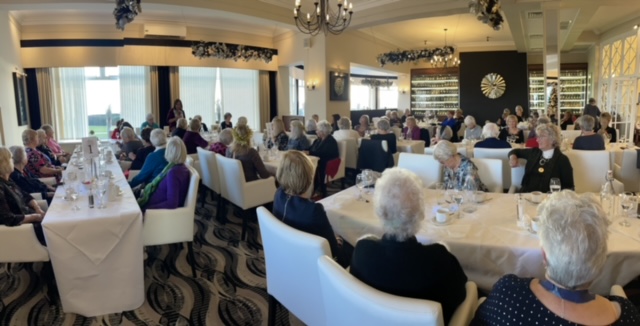 Hilary Genes welcomed members to Carlyon Bay Hotel and a few members read out some poems and readings to members after the luncheon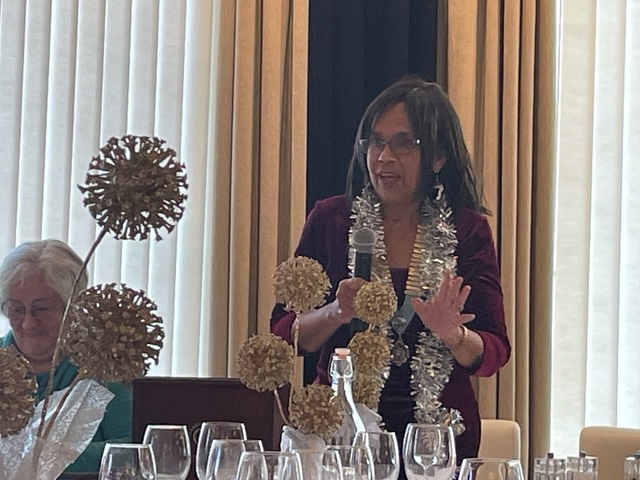 District Chairman - Hilary Genes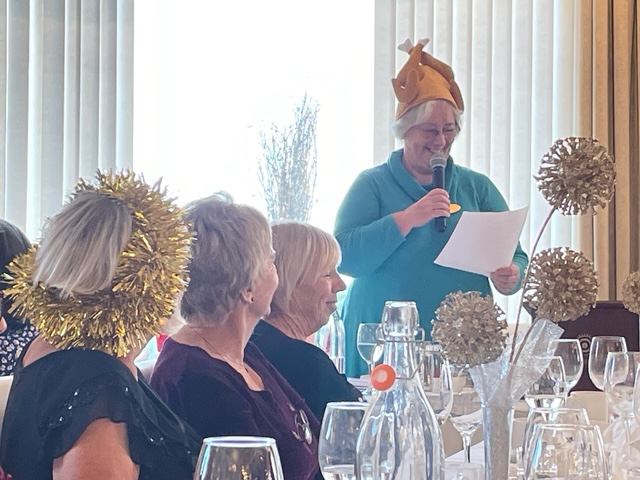 District Secretary - Angie Tamblyn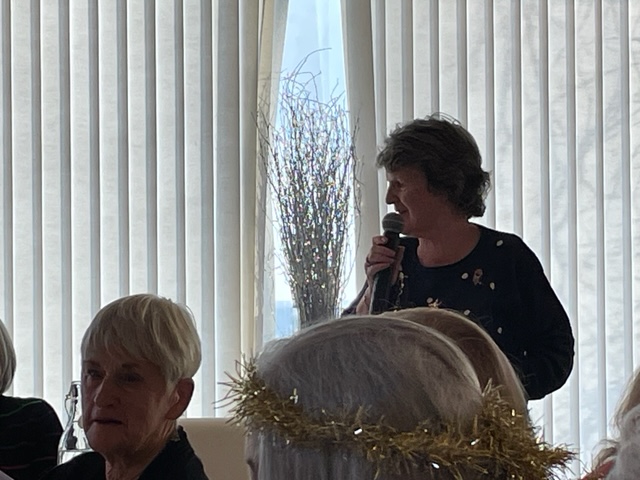 District Editor - Liz Williams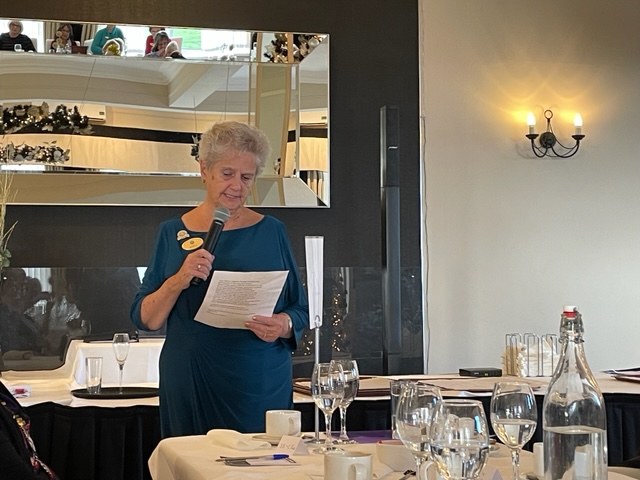 Liz Bosworth - Roborough -
Poem by Elizabeth Bosworth, Roborough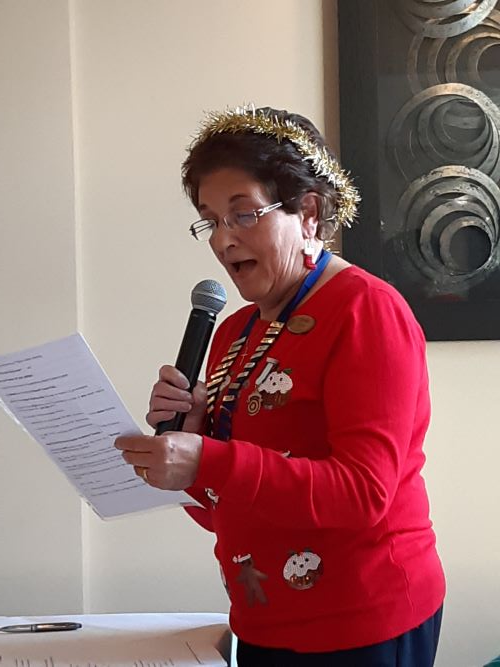 Vanessa Hughes - Letter to Santa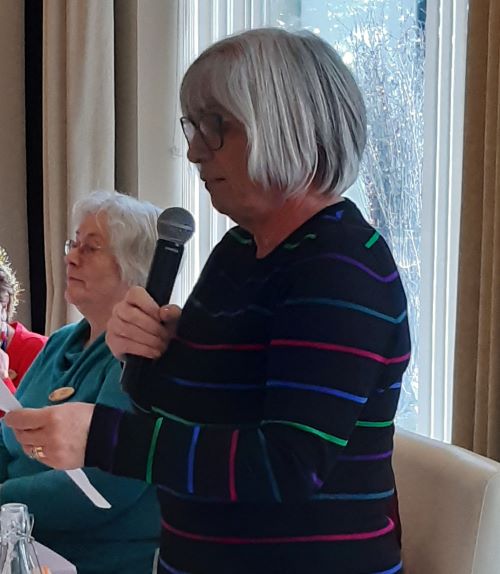 Member of Council - Fran Tregaskes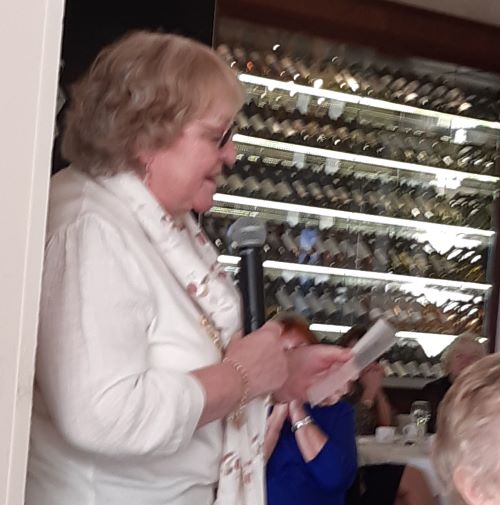 District Rally Lanhydrock Hotel - 10 November 2021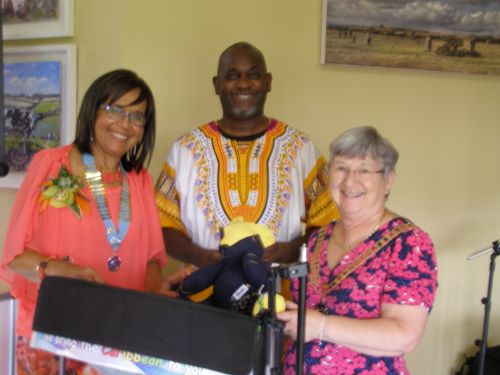 DC Hilary Genes with Guests, Gary Trotman from Buckinghamshire and Assoc President Betty Roberts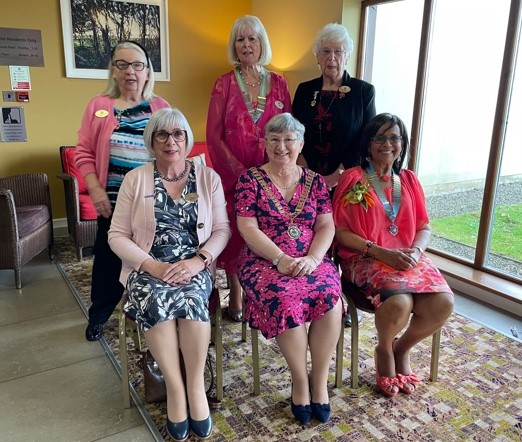 'DC Hilary Genes with Assoc President Betty Roberts, MoC Fran Tregaskes and guests inc DC Mrs Gay Ross from District 17'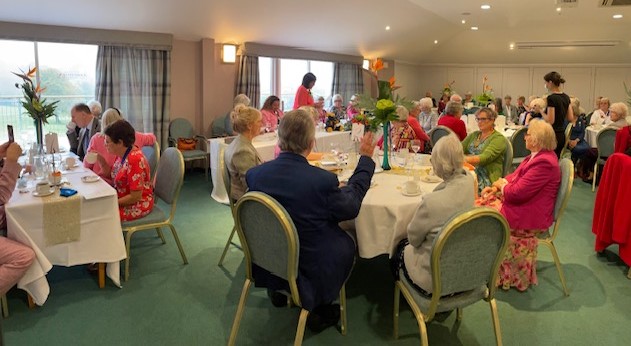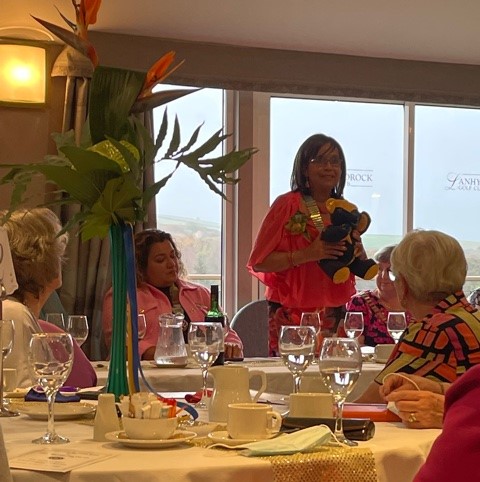 Another successful Rally was held at Lanhydrock Hotel. Chairman Hilary Genes with "Cousin Teddy" welcomed the President of the Association of Inner Wheel clubs in Great Britain and Ireland Mrs Betty Roberts. Betty in fact came from Cornwall and has been in Inner Wheel for 30 years. Betty joined Inner Wheel and somehow found herself on the Association Committee and the rest is history! Unfortunately during lockdown we have lost Clubs and it is more important than ever we take up the challenge of Mrs Margarette Golding to promote true friendship, to encourage the ideals of personal service, to foster International Understanding. Communication between Clubs is very important and the Executive would like to have meetings via Zoom perhaps one a month. Her Charity "Stroke Association" is because both her parients died from Strokes. Betty is asking every member of Inner Wheel to walk and raise money for her Charity and hopefully all members will rise to this challenge.