IIW is launching a Covid19 Disaster and Vaccination Fund that is to raise money to help with the immediate effects of the pandemic and to help with a long term solution. Attached is the graphic that has been created, which contains the # that has been set up for inclusion in any social media posts that IW clubs / IIW are doing relating to Covid-19 activities.
Association Magazine December 2020 Click here




Association of Inner Wheel Clubs in Great Britain & Ireland

51 Warwick Square, London SW1V 2AT

President's March Letter

Dear Friends,
I am writing this on a fairly grey St David's Day here in my part of Wales but the snowdrops and daffodils are blooming brightly. This has been a St David's Day like no other - no concerts, Eisteddfodau or get-togethers of any sort but my Club met this morning on Zoom to hear a wonderful storyteller recount one of our famous legends.
St David may have lived a long time ago but the message he left us with is as apt today as it ever was. He told us to do the little things and despite everything that has happened I know that Inner Wheel members have been doing just that - quietly getting on with helping out in their communities and adapting to life as it is now.
February has been a busy month for me, although I have scarcely left my study. We continue with our weekly Executive meetings along with all of the other Association committees. I chaired the online session when we presented the Presentation of Accounts and Balance Sheet 2019-2020 and the four Proposals and also the subsequent Q&A Session. I hope you all have a chance to look at this video and consider the contents carefully.
Please remember, the voting opens on March 9th and closes on April 9th.
I was privileged to join District 13 for their Rally with members from all over the world in attendance. I was happy to join the Inner Wheel Club of Gloucester, District 10 when they celebrated their 90th Anniversary - some achievement! I was so impressed that they already had most of their club officers for next year in place.
I am very pleased with the enthusiastic response to the idea which emerged from the District Chairmen's group that we send cards to express our appreciation to NHS workers to mark International Women's Day on March 8th. I know the clapping has stopped and some of those rainbows so lovingly drawn have faded but our gratitude for all the hard work they do has not diminished.
The mention of rainbows reminds me of a fact not often realised, The Wizard of Oz opened in cinemas on 25 August 1939 and "Over the Rainbow" was the most popular piece of music in that year. It is a reminder that we are in tough times but walking towards better ones. With so many of us having had our vaccinations let us hope that that "somewhere" is not too far away.
Yours in Inner Wheel Friendship,

Enid
Association President Enid Law 2019-2021



Association 2021 Marazine Click here

Association 2020 Magazine on line Click here.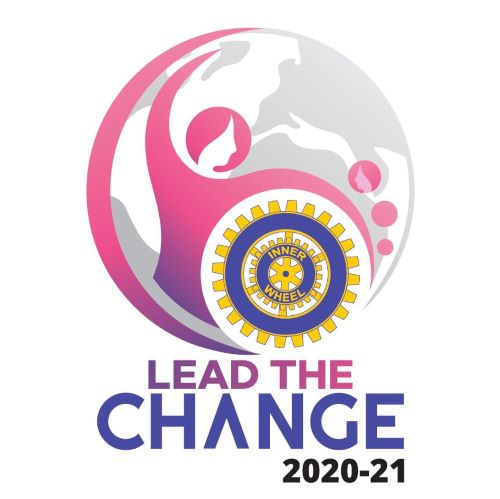 Appeal for help for Lebanon click here
IIW is launching a Covid19 Disaster and Vaccination Fund
to raise money to help with the immediate effects of the pandemic and to help with a long term solution.
One of the IIW Board Directors created this video https://youtu.be/IlxspMEf_SA

Inner Wheel is one of the largest women's service voluntary organisations in the world and are active in more than 104 countries.
There are more than 108,000 members in 3,895 Clubs.
International has an Executive Committee of 5 elected members and 16 elected Board Directors. They look after the organisation. There is a small office with one full time employee.

Every three years there is an International Triennial Convention organised by a hosting country committee and the IIW Governing Body where changes to the constitution are discussed and voted upon by the membership.

Personal service is a top priority and members find many ways to carry out projects in their local communities.
They provide help in hospitals, hospices, care homes, schools, entertain the elderly and lonely and offer help to needy children and the disabled.