District 129 covers Plymouth, Roborough, Tavistock all of Cornwall and the Isles of Scilly
International Inner Wheel is the administrative body that acts as the umbrella for the Inner Wheel organisation worldwide.

Inner Wheel is one of the largest women's service voluntary organisations in the world and are active in more than 104 countries.
There are more than 108,000 members in 3,895 Clubs.
International has an Executive Committee of 5 elected members and 16 elected Board Directors. They look after the organisation. There is a small office with one full time employee.

Every three years there is an International Triennial Convention organised by a hosting country committee and the IIW Governing Body where changes to the constitution are discussed and voted upon by the membership.

Personal service is a top priority and members find many ways to carry out projects in their local communities.
They provide help in hospitals, hospices, care homes, schools, entertain the elderly and lonely and offer help to needy children and the disabled.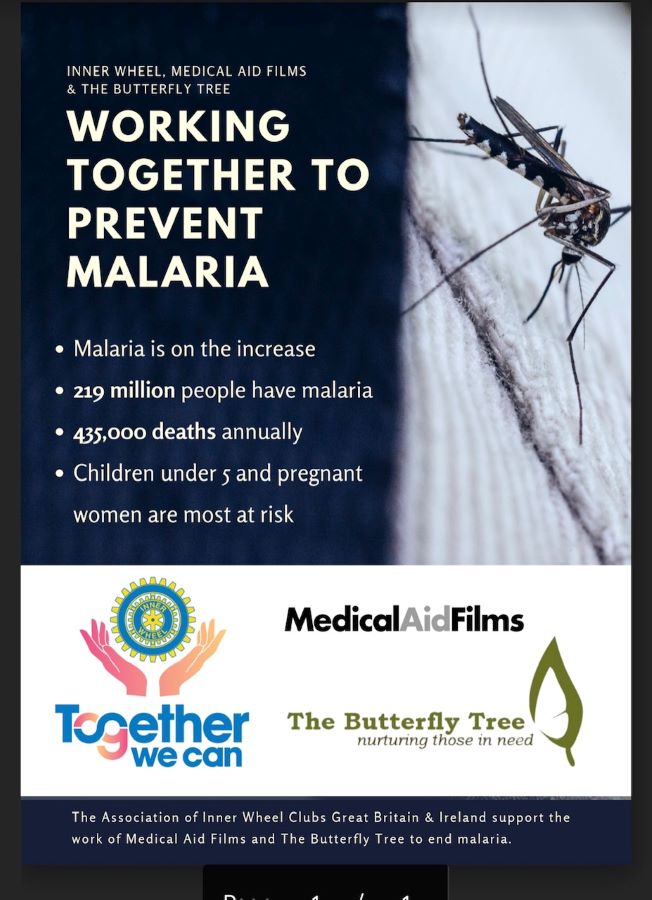 2019
It is hoped that with the support of many clubs sufficient money will be raised to go some way in the Prevention of Malaria.
All D.129 I.S.O's were given a few of these posters on Monday evening.
Most clubs will try to support this charity, sending money raised to District Treasurer to forward to Association office, to enable one 'large' cheque to be presented from Association at end of year and thus obtain maximum publicity.

Site designed by w.wallis